Transportation
Latest Articles
Green Cruises and Retreats for Nature Lovers

Cruise companies are making efforts to green their fleets, incorporate sustainable practices, and reduce their carbon dioxide emissions. This is important given that cruise ships generate about 100 gallons of toxic and hazardous materials and more than 210 gallons of sewage. Different lines have...[Read More]
Hybrid Cars for Responsible Citizens and Sustainable Driving

The best hybrid cars save money on fuel and minimize environmental pollution. They are fitted with a gas engine, spacious cabin, and feature elegant designs, high-end materials and safety features such as inflatable rear seatbelts, post-crash alert systems, and many others. The ride is quite,...[Read More]
Free Public Transport and Other Methods to Decrease Urban Sprawl

There are different ways to reduce traffic congestion and carbon dioxide emissions and pollution. Free public transport is one way to encourage people to use buses and trams and cut traffic emissions. Free Public TransportTallinn, the capital of Estonia offers free public transport to reduce car...[Read More]
Light Rail Transit, Bridge Links, and Other Features of Eco-cities

Eco-cities combine modern and innovative features such as solar panels, green roofs, bridge links, and others. They are also known as sustainable cities and the goal is to reduce waste, pollution, and greenhouse gas emissions. Sustainable communities, cities, and districts rely on local resources,...[Read More]
Green Transport for Efficient, Affordable, and Safe Travel
Green or sustainable transport refers to environmentally friendly ways, vehicles, and equipment that allow companies to transport goods and commuters to move around. There is an array of innovative and high-tech solutions, from electric and commuter bikes to electric race cars.
Types of Green Vehicles and Eco-travel
There are different green vehicles, from hybrid vehicles and cars that run on alternative fuels to green trains. When it comes to travelling, sightseeing often plays an important role, regardless of whether the person is a backpacker, business or leisure traveler, or a culture tourist. The goal is to travel with a minimal harm and impact on nature. One way to go about this is to plan your itinerary ahead of time. Check the map to see if the landmark is located on a public transit route. Another option is to join a city guided tour that is free of charge. You can also try alternative means of transportation such as donkey stations (like on Santorini), a rickshaw, or a tuck-tuck. Environmentally conscious travelers also take their bikes with them. This way, they can visit nearby touristic places and landmarks. Bikes are a carbon-free, healthy, and safe alternative to cars. Responsible tourism also means leaving bath gel, shampoo, soap, and other bottles at the hotel so that the hotel staff can reuse them or collect them for recycling.
When travelling, you can also choose a green airline. It may come as a surprise, but there are carbon-neutral airlines that produce less carbon dioxide emissions. The carbon footprint is three times smaller than that of traditional airlines.
Green Infrastructure
Building transportation infrastructure, including highways and roads, contributes to environmental pollution, global warming, greenhouse emission, and different health conditions. It is also a major contributor to energy insecurity. Eco-friendly transportation infrastructure represents a network that offers inexpensive and safe ways to move around, without spending huge amounts of non-renewable sources of fuel. The Green Highways Partnership is a novel idea that was developed by the FHA and the Environmental Protection Agency. The problem with the current transportation system is that vehicles generate carbon dioxide and smog while traffic congestion and high speed lead to many serious and deadly car accidents. The partnership initiative aims to make the highway system more efficient so that the lanes are less congested. Another approach to creating green infrastructure is using permeable building materials. This will stop toxic compounds and metals from entering the watersheds. The initiative promotes the use of recycled materials to support environmental protection and reduce the use of landfills.
The goal of the partnership is to build green infrastructure based on economic incentives and the voluntary participation of different market players, including private and public partnerships. The incentive promotes good watershed management practices, the use of renewable sources of energy, new storm water protection methods, and energy conservation. Another goal is to promote different means of public transportation and ride sharing. Post-project monitoring is also an important part of the initiative, with the goal of developing plans for future growth. To this end, it is essential to ensure that drainpaths are restored and streams and wetlands adequately protected. Another goal is to minimize disruption to wildlife habitats and ecological processes and promote diversity.
Public Transport as a Green Solution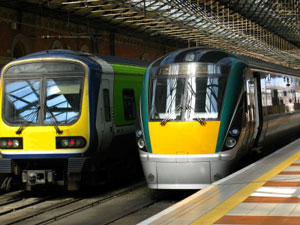 Using public transport is one of the ways to reduce greenhouse emissions. There are added benefits such as fuel savings, safety, and energy independence. If more people chose to use public transport, the reliance on oil and gas imports would decrease substantially. In fact, studies show that if 10 percent of people use public transport on a daily basis in the U.S., this would result in 40 percent less oil imports. Safety is also an important consideration. Riding a subway, train, or bus is many times safer than using an automobile. Moreover, using public transportation is associated with better health. People get more exercise when walking to the train or subway station or the bus stop. Trains are very efficient in that they use less fuel than other means of public transportation. Moreover, they emit less greenhouse gases than cars and buses.
Planes are responsible for a significant percentage of the total carbon emissions. Those who wish to go green should pass on planes (except for the green airlines). To make a point, the carbon emissions for a flight from Greenville, North Carolina to Atlanta, Georgia are equal to 106 kg or 235 lbs. The emissions for a flight from Washington to London are 814 kg. To make a comparison, a train trip of the same scale (about 3,600 km) would equal less than 200 kg. Plane travel has a big impact on climate change because it affects ozone and causes cirrus clouds to form. Global warming takes place over a shorter period of time.
Technologies used to control air pollutants and greenhouse emissions from buses, cars, planes, and trains help minimize the carbon footprint and climate impact. Using green transportation is a further step in this direction. If one in five people uses public transport regularly, this will result in 20 percent less emissions. There are other benefits to going green, and one is that this helps reduce traffic congestion.
Benefits of Green Transport
Among the many benefits are the low maintenance and operating costs. Eco-friendly vehicles are less dependent on fuel and thus less susceptible to fuel price fluctuations. Reduced vehicle noise results in a quiet ride which is a major advantage. Low and zero emission vehicles help reduce the carbon print and contribute to better air quality. Proponents of green cars claim that they are powered by electricity which is generated by coal plants. Generating more than 40 percent of the electricity used, coal plants are a major polluter in the developed countries. Burning coal is associated with toxic emissions, acid rain, smog, and other pollutants. Plants use huge amounts of water to process coal and generate toxic compounds, sludge, ash, and other waste materials. The storage, transportation, and mining of coal also contribute to environmental pollution. At the same time, the developed countries use more sources of energy that generate less gas emissions. These include wind and hydro sources. In Ontario, for example, ¾ of the electricity comes from wind, nuclear, and hydro power plants, which generate low greenhouse emissions. The goal is to include more sources of clean and renewable energy in the mix.
Electric cars and hybrid vehicles are an important development that contributes to economic growth and innovation in the automotive industry. This means that the work volume of vehicle assembly plants and parts manufacturers will increase in the future.
Other Ways to Reduce the Carbon Footprint
There are different ways to reduce carbon emissions, and an effective strategy would include diversification through carpooling, walking, and bicycling. Aggressive driving, for example, braking hard, wastes fuel and generates more emissions. Accelerating fast also wastes 1/3 more fuel. Another option is to retrofit your van or car to run on alternative fuels such as biodiesel and cellulosic ethanol. The benefit of using clean diesels is that cars trap harmful compounds and burn fuel more efficiently. Other biodiesels, which are renewable sources of energy, are made from used cooking oil, canola oil, and soybeans.
Transportation Articles
Green Cruises and Retreats for Nature Lovers
Hybrid Cars for Responsible Citizens and Sustainable Driving
Free Public Transport and Other Methods to Decrease Urban Sprawl
Light Rail Transit, Bridge Links, and Other Features of Eco-cities
Eco-Friendly Products for Green, Responsible Travel
Hypermiling as a Way to Stretch Miles per Dollar
Carbon Neutral Passenger Planes for Green Air Travel
Commercial Vehicles and Intelligent Transportation Systems
Green Accommodation for Cleaner Environment and Rewarding Experience
How to Be an Eco-Friendly Tourist and Minimize Your Carbon Footprint
Car Sharing to Save on Mileage and Reduce Gas Emissions
Bike Sharing Is Worth It and Transforms Cities in Positive Ways
Eco-Friendly Vehicles for Fuel Savings and Green Lifestyle
Commuting to Work in Environmentally Conscious Ways