Green Cruises and Retreats for Nature Lovers
Download Audio Version
Cruise companies are making efforts to green their fleets, incorporate sustainable practices, and reduce their carbon dioxide emissions. This is important given that cruise ships generate about 100 gallons of toxic and hazardous materials and more than 210 gallons of sewage. Different lines have started to upgrade their fleets to make ships more energy- and fuel-efficient. They incorporate black water treatment systems and energy-efficient appliances. Many lines also hire environmental officers to ensure that all systems meet international laws and environmental standards.
Responsible and Sustainable Practices
Many lines have implemented towel reuse programs to reduce water and electricity consumption. These programs minimize waste and the negative impact on shoreside communities and sea life. The problem is that cruise ships generate plenty of waste, including oil, carbon dioxide, garbage, chemical waste, and more. Responsible practices such as towel reuse programs and the use of green products and detergents reduce waste and pollution. Many lines now use orange, banana, soy, and other green extracts instead of conventional cleaning supplies that are toxic and hazardous. Water treatment systems are also installed on many ships. The fact is that sewage water contains intestinal parasites, viruses, and bacteria that contaminate sea and ocean water and are unsafe for sea life. While ships are required to keep toxic waste onboard, some cruise ships dump garbage into the water. The role of environmental officers onboard is to ensure that such practices are avoided. They also offer environmental classes to teach passengers green practices.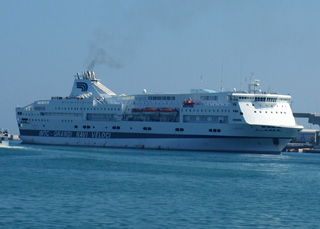 Ways to Minimize Waste
There are many ways in which passengers can help minimize waste and the consumption of nonrenewable resources. It is important to ensure that the air con and cabin lights are off when passengers are leaving the cabin. Taking a quick shower helps reduce water waste. Some passengers also use reusable bottles to minimize waste. And some cruise ships have recycling receptacles for passengers to dispose of waste in a safe way.
Green Cruise Lines
Disney Cruise Lines is one of the best green choices while MSC Cruises, P&O Cruises, and Costa Cruises have room for improvement. They all received failing grades in areas such as water and air pollution and sewage treatment. Holland America has implemented strategies and systems for power reduction. Shorter routes have been developed to save on fuel and reduce pollution. Silicone paint is used to minimize drag, making the ship more fuel-efficient. Scrubbers are also used to minimize sulphur oxide emissions and particulate matter. The Royal Caribbean Cruises and Celebrity have also implemented sustainable practices and technologies. Celebrity Cruises, for example, use water filtration systems and energy-efficient lamps onboard. Tin, aluminum, and other materials are recycled. Royal Caribbean offers environmental training to all crew and staff members and buys items and supplies with minimum and reduced packaging. Reusable and biodegradable bottles and containers are used instead of plastic bottles. Water treatment systems have been installed onboard as well. Propulsion systems are also added to enhance performance. The generators, ice-makers, and other equipment and appliances are upgraded to save energy. Some cruise lines also use large solar panels to generate power. Celebrity Cruises, for example, installed modern lighting and panels on their ships, resulting in major energy savings of up to 50 percent. Biodiesel is also used to reduce environmental pollution.
Green Retreats
Eco retreats are another option for nature lovers, with many places to visit and enjoy for a peace of mind. They combine comfort, style, and sustainable practices. Retreats are located in desert scenery, mountains, and near white-sand beaches. They offer educational classes, relaxation, and good food. Many vacationers choose eco retreats that re-use gray water and use rain collection systems, energy-efficient appliances, and renewable sources. The focus is on green practices and bioclimatic design that reduces waste and the use of resources. Customers have plenty of choice when it comes to eco retreats – garden studios and rooms, vacation homes, and more. Ocean green retreats are also a great choice for a summer vacation. Eco-friendly cottages, vacation and safari packages, and other options are available for an unforgettable summer. Green resorts offer a selection of tented cottages and luxury suites for any budget.
Related Articles
Eco-Friendly Products for Green, Responsible Travel
If you are going on a holiday or trip abroad, you may want to pack lightly to minimize your carbon footprint. And there are eco-friendly travel products such as reusable food containers, bamboo utensils, and solar-powered devices to pack for your trip. Products for Your Summer HolidayThere are...
Green Accommodation for Cleaner Environment and Rewarding Experience
Eco hotels, hostels, and other types of accommodation offer visitors the opportunity to stay in a green, energy-efficient, and non-toxic environment that doesn't contribute to environmental pollution. Features of Green Accommodation Eco hotels feature solar-powered electricity and devices,...